Pembrokeshire is full of heritage
We're lucky to have 3 fantastic castles within 10 miles of East Jordeston. All are worth visiting but if you're short on time, we'd recommend Pembroke Castle above Manorbier & Carew.
We also have 2 wonderful gardens nearby, Colby & Picton. Colby is a National Trust propery so if you already have membership that'd be a great place to visit. Picton's grounds are much bigger and you can also visit the stately home.
We've also included the National Botanic Garden of Wales on our list. It's a long way from East Jordeston but if you're traveling home via the M4, it's well worth a visit.
Tenby - 5 miles
Owned by Cistercian monks and open to tourists during the summer. On sunnier days you can enjoy the fantastic sandy beach of Priory Bay, which
Amroth - 10 miles
Sitting at the edge of Pembrokeshire's coal seam near the seaside settlement of Amroth, Colby's picturesque gardens are owned by The National Trust
Llanarthney - 34 miles
We love this place, especially the butterfly house and the Mediterranean dome. A great place to stop on your way home.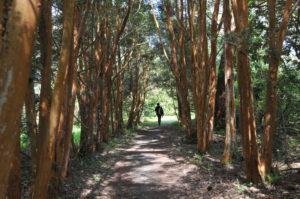 Haverfordwest - 18 miles
Pembrokeshire's finest stately home, surrounded by 40 acres of woodland gardens and grounds.